Description
18650 SX22 Button Top high drain rechargeable Li-ion battery.
With the capability to handle 22 Amps of constant current (31 Amps - pulse current) Orbtronic SX22 will work perfectly in high current | high drain applications.
We are using only premium grade 18650 core cells to build Orbtronic SX22 .
Orbtronic batteries are always rated properly in accordance with manufacturer's specifications-datasheet.
Professional welding equipment is used to weld button top, or bottom reinforcing plate.
Rigorous testing is performed on all Orbtronic battery lines to make sure that each cell is able to handle high discharge requirements.
18650 battery Specifications-datasheet: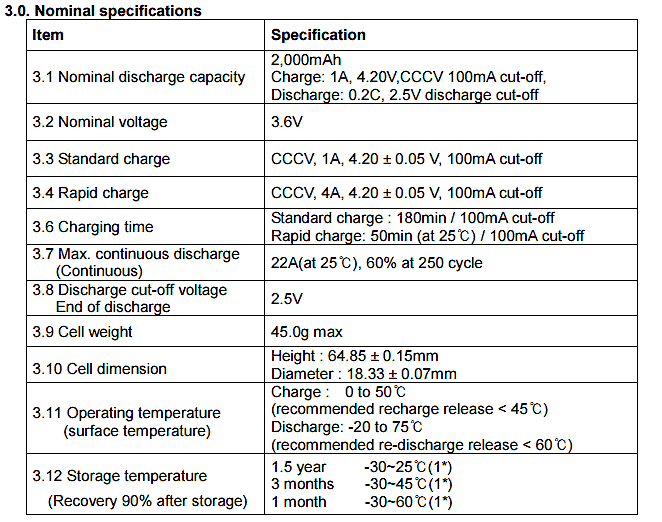 Max. Continuous Discharge 22 A

Max. Pulse Discharge 31 A

Rated Capacity 2000mAh

Nominal Storage Voltage 3.6V-3.7V

Standard Charging @ 1A, 4.2V, CC/CV

Fast charging @ 3.8A max., 4.2V, CC/CV

Minimum Discharge Voltage Level 2.5V

Internal impedance: ~18mΩ, AC @1kHz, after charging @ 1C

Weight 46g

Height 65.25mm +/- 0.2mm

Diameter 18.49 +/- 0.2mm

Positive Terminal: Button Top
Important- Warning:
Never completely discharge li-ion battery ( below 2.5V ).

Charge fully to 4.2V before first use.

Never use force to install (insert) li-ion battery.

Use only high quality battery chargers.

Do not expose to heat.

Do not short positive, and negative battery contacts (intentionally or unintentionally).

Keep battery that is not in use inside protective plastic holder [included].

Do not charge battery over 4.25V (another reason to use good battery charger).

Do not charge unattended.

Do not store your li-ion batteries fully charged (for an extended period of time).

Store in cold and dry place at approximately 3.7V (storage charge).

Never try to charge (or discharge) li-ion batteries with battery chargers that are not made for Li-ion batteries.

After battery is discharged - don't leave it discharged=>charge it as soon as possible.

User should have enough knowledge on Li-Ion rechargeable batteries: in discharging, charging, assembly, handling, and proper Li-ion battery storage before use.

Orbtronic LLC is NOT responsible for any damages and consequences caused by misuse.
We are using premium grade Samsung 18650 core cells (model: 20R) for Orbtronic SX22 battery assembly.
All tested, and ready for any high discharge application.
What is in the box?
Hybrid IMR Orbtronic Ultra High Drain 18650 SX22 Button Top Rechargeable Battery cell
Orbtronic protective 18650 battery case (holder)
Price listed is for one cell.
We ship fast from Florida-USA
View All
Close