Description
New Orbtronic 26650 47 Amp High Drain High Capacity IMR Li-ion 3.7V 4350mAh Battery.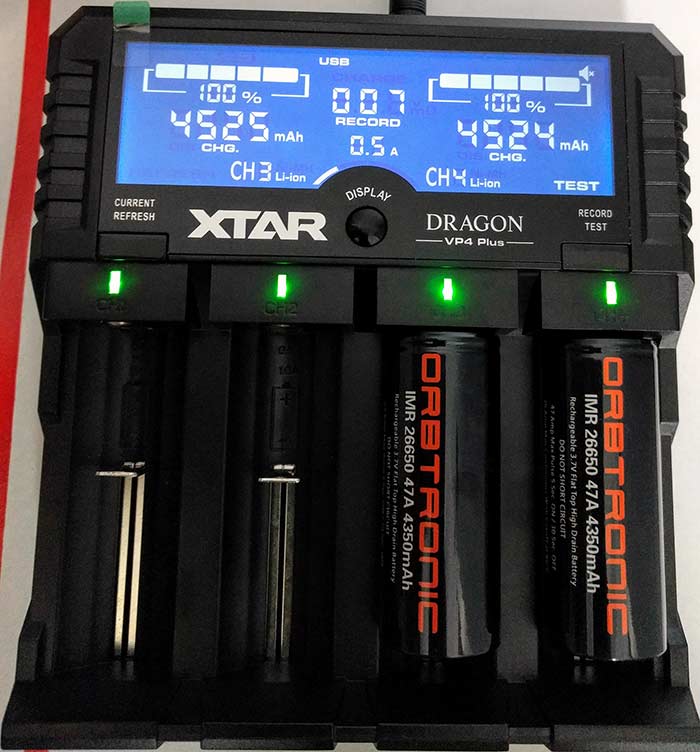 Specifications:
Capacity: 4350mAh
Type / Size: 26650
Full charge: 4.2V
Recommended charging current: 2A CC/CV Charging (Battery can be charged with current lower than 2A, but charging process will take longer)
Nominal voltage: 3.7V
Low Cut-off Voltage: 2.5V (this is the lowest point any li-ion battery can be under load)
Max. Discharge current: 47A (5 Sec. ON /30 Sec. OFF)
Max. Continuous Discharge current: 36A (With cut off at 80C temperature)
Dimensions: 26mm x 65mm ( +/- 0.04mm)
Chemistry: Li-ion / Hybrid IMR
Positive terminal: Flat Top
Electronic External Protection: No (unprotected)
We worked very hard to get this grade A high discharge 26650 cell that will maintain its full capacity even under high discharge current load.
Important:
Charge FULLY before first use.
Do not try to fully discharge li-ion battery ( below 2.5V under load ).
26650 battery should be charged fully to 4.2V before first use.
Never use force to install (insert) li-ion battery.
NEVER carry bare battery in your pocket, purse or anywhere near other metal objects.
Do not use old and new (or different core batteries) cells together in the same device.
Do not use unprotected (bare) batteries connected in series.
Use only high quality battery charger.
Do not expose to heat.
Do not short (connect) positive (top), and negative (bottom) battery terminals (contacts).
Keep battery that is not in use in plastic holder (or any insulating [plastic] container).
Never charge battery over 4.25V (another reason to use high quality battery charger).
Do not charge unattended.
Do not store your li-ion batteries fully charged (for extended period of time / one month and longer).
Store in cold and dry place at approximately 3.6V - 3.8V (storage charge).
After battery is discharged-don't leave it discharged=>charge it as soon as possible.
Do not use batteries with damaged PVC shrink wrap (insulation)
What is in the box:
Orbtronic 26650 47 Amp 4350mAh IMR Li-ion 3.7V Rechargeable Battery
Safe Li-ion packaging
We ship very fast from Florida USA. Usually the same business day.
View All
Close